-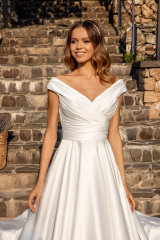 DANIELA DI MARINO & ANGELA BIANCA
The collections of Italian Daniela di Marino and Angela Bianca represent classic and boho bridal dresses with a modern twist.
The manufacturer fulfills the wishes of the customer regarding changes in suits. For example, if you want a different neckline, slit or even a different material for your outfit, Daniela di Marino's designers will do it.
The manufacturer also has a plus lineup.
Subscription period 3 -4 months.